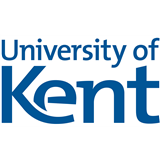 One of the UK's leading universities, the University of Kent offers you outstanding teaching, world-leading research, stunning study locations and a superb student experience.
Awarded Gold, the highest rating, in the UK Government's Teaching Excellence Framework*, Kent has a global reputation for excellence – ShanghaiRanking places Kent in the top 500 of world universities (2018 ARWU) – and it is a great choice for outstanding students keen to advance their career.

The University offers a wide range of foundation, undergraduate and postgraduate degrees, exciting study abroad and year in industry opportunities, summer schools, and a generous scholarship fund including awards for academic, musical and sporting excellence and dedicated £8,000 scholarships for international students.

Kent is committed to helping you gain an advantage when the time comes to embark on a career. The University has a range of employment initiatives including internship opportunities, a careers and employability advisory service, Language Express and JobShop. And these initiatives work: more than 95% of Kent undergraduate students who graduated in 2017 and responded to a national survey, were in work or further study within six months (DLHE).

The UK's European university, Kent has safe and beautiful UK campuses close to London, and specialist postgraduate centres in Paris, Brussels, Athens and Rome. Students can soak up the international atmosphere by taking part in Worldfest, Europe Day, Holi, Thanksgiving and Chinese New Year celebrations, or set up their own events.

With world-renowned alumni such as acclaimed novelist Kazuo Ishiguro, the 2017 Nobel Prize for Literature winner who studied BA English and Philosophy at Kent, students will be inspired to pursue and achieve their ambitions.

Having won the Outstanding Support for Students award for two consecutive years at the Times Higher Education (THE) Awards for its Student Success Project, Kent is delighted to be recognised as a brilliant UK university that helps students live, work and study to their full potential.

*The University of Kent's Statement of Findings can be found at www.kent.ac.uk/tef-statement
Inspirational teaching
Great teachers don't just teach, they inspire. Kent is renowned for a teaching style that brings subjects to life and encourages students to think independently.

Kent's academics have an outstanding ability to pass on their passion for study and debate. As some of the most influential thinkers in their field, they put students in touch with the latest ideas and ensure that they are intellectually challenged.
Teaching quality gold
The University's teaching has been given the highest award possible for quality in the UK. It was awarded a gold rating in the official Teaching Excellence and Student Outcomes Framework (TEF), as awarded by the UK Government. The TEF assesses excellence in teaching and recognises excellent outcomes for graduate-level employment and/or further study after students have graduated. Based on the evidence available, the TEF Panel judged that Kent delivers consistently outstanding teaching, learning and outcomes for its students.
Department structure
Kent comprises three faculties…
Humanities
The Faculty of Humanities has one of the largest range of subjects of any university in the UK, running programmes on architecture, arts, philosophy, history, literature, film, drama, music, various modern languages, linguistics and many other subjects also. Its schools and subjects consistently perform well in league tables and the Faculty is well known for its student experience and graduate employment.
Sciences
The Faculty of Sciences has departments and schools covering subject areas such as Pharmacy, Biosciences, Computing, Engineering & Digital Arts (including Mechanical Engineering), Physical Sciences, Sports & Exercise Sciences, and Mathematics, Statistics & Actuarial Science.
Social Sciences
The Faculty of Social Sciences has departments and schools covering Journalism, Business, Management, Accounting and Finance, Law, Anthropology, Conservation, Economics, Politics & International Relations, Psychology, and Sociology, Social Policy and Social Research.

Visit www.kent.ac.uk for more details on the faculties' numerous departments and schools and the exciting range of degrees they offer.
Outstanding facilities
Canterbury campus
The stunning Canterbury campus is built on 300 acres of parkland overlooking Canterbury Cathedral, part of a UNESCO World Heritage Site. Less than an hour by train from London and only 25 minutes' walk from Canterbury city centre, the campus has residential, teaching and administrative buildings surrounded by green open spaces, fields and woods. There's even a duck pond!

The campus is self-contained and includes high-quality student accommodation, teaching facilities, a library, sports centre, theatre, music performance centre, nightclub, cinema, restaurants, bars, shops, a bookshop, medical centre, day nursery, public access computer rooms, a chapel, launderettes and bus stops.
Medway campus
Close to London, Kent's Medway campus reinvents a former naval base as a 21st-century study space, with exceptional facilities and support.

A lively atmosphere and a thriving close-knit campus community gives students plenty of opportunities to play sport, join a society, socialise or take up a new interest. There are music rehearsal rooms, digital filmmaking suites, an industry-standard newsroom, laboratories and post-production studios, all housed in a unique, historic setting.

The recently opened Student Hub is a fantastic place to relax with friends, grab a drink or snack and get on with work. The space is filled with social zones, study areas and a brand new bar.

The Medway campus has two sites, Pembroke and The Historic Dockyard Chatham. It's just a ten-minute walk from one to the other, so it's easy to make the most of the facilities on each site.
European centres
The University also has specialist postgraduate centres in Paris, Brussels, Rome and Athens. Many of Kent's programmes offer dual UK and European qualifications (international double awards) at Bachelor's, Master's and Doctoral level, and you can study for a UK degree full-time in Brussels, Paris and Athens or for a term abroad in Rome and Paris.
Kent Sport
With a dedicated sports development team, fully qualified health and fitness instructors and support staff, the University's Kent Sport department offers a wide range of services and caters for over 30 different activities, from racket sports to a casual workout. The department encourages everyone to keep fit and healthy and strives to create a relaxed atmosphere for people to train and enjoy themselves – whether they are a recreational user or a serious athlete intent on competing at a professional level. There are also generous sports scholarships available.
Making Music
The University of Kent has a flourishing programme of music and students of all subjects, together with staff and the local community, have the opportunity to get involved in the wide-range of extra-curricular music activities.

As well as the many concerts in the Colyer-Fergusson Concert Hall, there are opportunities to perform in other venues, including the spectacular surroundings of Canterbury Cathedral and other historic and exciting spaces around the region.

If you sing or play an instrument you can join the Chorus, Symphony Orchestra, Concert and Big Bands and Chamber Choir which rehearse weekly for public concerts each term. Many other ensembles and bands are formed each year, and budding soloists and conductors also have a chance to develop their talents. The University also offers Music Performance Scholarships usually worth between £1,000 - £2,000. They are awarded each year to talented instrumentalists and singers studying for any degree at the University, together with £500 worth of instrumental or singing tuition with experienced teachers.
Scholarships & funding
The University of Kent has a generous scholarship fund to assist students at all levels of study including international student scholarships, sport, music and subject specific awards.

In addition to the scholarships open to all Kent students, awards specifically available to international students include:
International scholarships for undergraduate students
These scholarships provide students with GBP8000 towards the cost of tuition fees per year of study at the University of Kent, and are offered to nationals of any country paying overseas fees.
International Scholarships for Taught Masters Students
These scholarships are worth GBP8000 towards the cost of tuition fees for taught master's programmes and are offered to nationals of any country paying overseas fees.

Find out which awards you could be eligible to apply for…
Key facts
• Standard tuition fees Undergraduate: £15,700 - £19,000 (2019/20 entry)
• Standard tuition fees Postgraduate: £15,700 - £19,000 (2019/20 entry)
• On campus accommodation: from £4,646.46 (2019/20 entry)
Blog by Norwegian student Erlend Birkeland
Les mer om UNIVERSITY OF KENT
Interessert i denne skolen?
Bildegalleri
Følg skolen, og få oppdateringer om studiemuligheter!
Opprett en brukerkonto og legg til skolen i dine "skoler av interesse", og vi vil sende deg informasjon om aktuelle studiemuligheter.
Opprett din personlige brukerprofil
Legg til skolen i dine skoleønsker
Vi sender deg oppdateringer om studiemuligheter
Fakta om UNIVERSITY OF KENT
Steder hvor UNIVERSITY OF KENT har avdelinger
Annonser:
Usikker på hva du skal studere?

Å velge studium kan være vanskelig – det vet vi alt om! Derfor har vi i Kristiania laget en enkel og morsom test, som forhåpentligvis kan peke deg i riktig retning.

Bestill gratis studieveiledning

Er du usikker på hva du vil bli og hvilket studium som passer best for deg? Vi i Kristiania hjelper deg gjerne!
Følg med på Kristiania Challenge

Vegard Harm, Ahmed Mamow og Johanne Massey utfordres innen ulike fagområder!

Kristiania har over 20 mastergrader innen:

HR, markedsføring og kommunikasjon Ι Helse og psykologi I Kunst og design Ι Teknologi og innovasjon.

KRISTIANIA
Kristiania har over 100 års erfaring med å gi studentene, arbeidslivet og samfunnet det de trenger. Vi tilbyr over 150 studier innen HR, markedsføring og kommunikasjon, Helse og psykologi, Kunst og design, samt Teknologi og innovasjon. Hos oss kan du ta årsstudier, fagskoleutdanninger, bachelorgrader, mastergrader og ph.d. i Oslo, Bergen og på nett.
Fagskolen i Viken


Har du fagbrev og eller arbeidserfaring, og ønsker å øke din kompentanse? Vi har studier på heltid, deltid og nettbaserte studier. Vi har studier innen teknologi, helse, elektro, reiseliv, oppvekst, ledelse, kjemi, BIM, datateknikk, bygg, anlegg og KEM.

SE ALLE VÅRE STUDIER HER

Høgskolen i Molde


Høgskolen i Molde skal være en møteplass for kunnskapsbygging, der studenter og forskere skal kunne få utvikle sitt talent og sine faglige interesser i et åpent og attraktivt miljø.

GÅ TIL HJEMMESIDEN